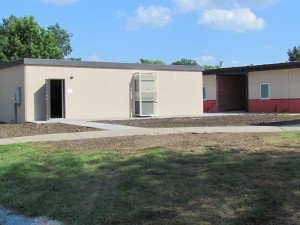 In house storm shelters, safe rooms, or tornado shelters can be constructed in the home, or in existing structures, that will meet guidelines set out by FEMA. Each shelter is in its entirety uniquely customized to meet your needs.
In house shelters are preferred by those who do not have a basement, and who do not want to venture outside to an external shelter for safety, do not have a yard area to bury an in-ground shelter, or have accessibility issues or requirements.
Steel room shelter frame is made of 3/16″ to 3/4″ steel. Master welder and fabricator welds 1/4″ angle to shelter insuring structural strength and stability.
Possible places to install safe rooms are breezeways, garages, closets, and unused rooms. Each safe room designed to meet your needs; no two are alike. Exterior finish can be customized to your taste. Call us today. Or contact us for a free quote.
Tornado Storm Shelter installed in Basement Photo Gallery
Tornado Storm Shelter (Saferoom) installed in Garage Photo Gallery (ADA Compatable)