Have a safe place to go.
You and your loved ones should be protected from tornadoes, severe storms, hail and high winds. We offer a variety of storm shelters, below or above ground built to suit individuals, families, groups as well as those needing handicap accessible protection.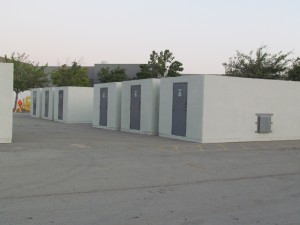 Joplin Press Release
Joplin students to be sheltered by new structures designed to withstand 250-mph winds JOPLIN, MO. Aug. 16, 2011  When the 7,743 students in Joplin, Mo., head back to school tomorrow, they will have a safe place to seek…Read More
Shelter built for Camp Alexander
FEMA grant used to build group shelter at Camp Alexander in Emporia, Kansas. View complete story as published in Emporia, Kansas Gazette.  Read More
Winfield, KS Housing Authority Shelter
This tornado shelter is stand-alone with 2 doors, 1 bathroom, benches, fresh air vents and painted to match established buildings. Located in Winfield, Kansas.  Read More
Chapman, KS Housing Authority Shelter
This tornado shelter has handicap accessible restrooms with a walk through door from the main building to the shelter thru a laundry room. Check out the front window.  Read More
Protection Shelters, LLC have been certified by a Professional Engineer to both meet and exceed the specifications set forth by FEMA and the National Storm Shelter Association. Protection Shelters, LLC was awarded the contract for 5 underground shelters for the Sedgwick County Public Works department, 3 for the department of Interior, US Government, as well as having built several FEMA shelters.