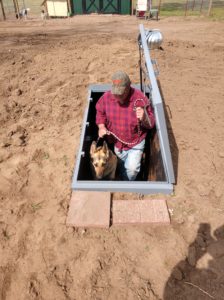 BELOW GROUND
We provide below ground tornado shelters in both steel and concrete versions.
Non-slip Steps & Handrails
Placed in Existing or New Construction
Meets FEMA Standards
One-year Standard Construction Warranty
Below Ground Steel Shelters
Our steel below ground shelter is totally buried in the ground with only the wind turbine and door showing above ground making it possible to plant or place things "on top". This shelter has 7 non-slip steps constructed of expanded metal on the same incline and decline as normal basement stairs, a hand-rail the full length of the stairs, is pet and elderly friendly and comes with a bench. The door has 3 grease-able steel hinges, 3 deadbolts and a gas air operated shock to aid you in opening and closing the door. Welded on inside and outside for leak resistance and structural integrity. Welding is done by a certified welder. This steel shelter is rust and corrosion proof for longer life.
Below Ground Concrete Shelter
Our below ground concrete shelter has double hand rails (1 on either side) of the 5 step (non-slip tread plate) 10" rise stairs and is approximately half underground with half showing above the surface.
The door has a gas/air operated shock/door closer, has been painted with a metal primer and has greaseable hinges with 3 locks.  There is an 8" ball bearing turbine and 6" vent.  The exterior has a stamped, textured concrete finish making it easy to paint or stain should you wish to do so.  These shelters are built with 4" thick walls made of reinforced fiber as well as steel rebar and poured to a minimum 6,000 psi concrete.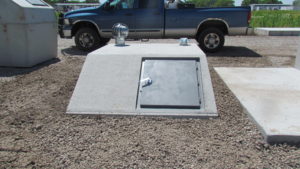 Basement Shelters
Each shelter bears a certificate with a serial number from the National Storm Shelter Association stating that the design, construction and installation meet the FEMA P-361, April 2021 Fourth Edition and NSSA ICC 500-2020 which are the highest standards for building tornado shelters. These shelters have a tested steel debris resistant door.
In Existing Basement
Our steel basement shelters use heavy duty anchors and epoxy to set your shelter. Your shelter is cut and assembled in our fabrication department then welded together in your basement to FEMA standards. Each one custom built to meet your needs. It is structurally built to bear wind loads in excess of 250 mph or an EF5 tornado. After installation should you wish to paint your shelter you can use a direct to metal paint.
In New Construction
Call us in your planning stage—if we know when your basement floor is poured we can save you money by installing at that point allowing you to frame and sheetrock around the shelter.
Our Guarantee.
We offer a one-year standard construction warranty against leaking, slip resistant steps, three deadbolts to secure door, and a rust and corrosion proof coating. Contact us for a free storm shelter quote.
Our emergency storm shelters are constructed of 10 gauge steel. All seams are seam-welded for structural integrity and leak resistance. They have been certified to meet and exceed the specifications set forth by FEMA and the National Storm Shelter Association.
---
Below Ground Tornado Shelters Photo Gallery