Group storm shelters are custom created for small to large groups depending on your needs. We've designed and constructed group tornado shelters for homeowners, communities, and government agencies nationwide as well as numerous FEMA-funded shelters for housing authorities and school districts.
Our group storm shelter options include:
Handicap Accessible
Delivered or Built On-site
Rental Options Available
Bathroom/HVAC Options
How to Choose the Correct Group Storm Shelter Size
FEMA and the National Storm Shelter Association ICC 500 current guidelines for a "group" shelter state that you should allow 5 square feet per person with allowance for at least one 10 square foot for a wheelchair (more if for more than 200 people). When determining what size to build the square footage for a group or community shelter,  also include another 15% beyond the footage for occupancy to allow for supplies – totes or cabinets with first aid, water, flashlights, etc.
Group Tornado Shelter Safety
All of our Group Shelters are built with 8" walls and have full-sized handicap accessible 36" doors. The roof is coated with sealer and concrete UV elastic membrane covering which will help keep temperatures cool in the heat of summer. After completion a serial number is affixed to the shelter and a certificate issued stating that all components used by Protection Shelters LLC in construction of group Tornado Shelters – doors, vents, and louvers — have been tested, inspected and passed by the National Storm Shelter Association and Texas Tech Wind Science & Debris Impact Testing (the company that does testing for FEMA) — and meet the standards for design and construction of FEMA P-361, April 2021 Fourth Edition and NSSA ICC 500-2020.
What Does Safety Cost?
Every year companies across America spend millions of dollars providing safety equipment and training for employees because they know that whatever the cost of safety, it is minuscule when compared to the cost of NOT being prepared.
Tornado weather patterns the past several years have changed to include not only the traditional "Tornado Alley" and "Dixie Alley" danger zones, but have expanded to include people and places for whom tornadoes were familiar only in movies and television shows.
At Protection Shelters LLC, we know all too well what the cost of not being prepared for tornadoes can be. After the devastating 2011 tornado in Joplin, Missouri, Protection Shelters LLC was asked to provide shelters for Hope High School and bring some peace of mind back for those students who had lost their school, neighborhood, and – for many of them – their homes.
Storm Shelters Exceeding Standards
Protection Shelters LLC constructs and installs group and residential tornado shelters that not only meet but exceed FEMA P-361, April 2021 Fourth Edition and National Storm Shelter Association (NSSA) ICC 500-2020 standards. Doors are built into walls rather than attached to them, walls are 8" thick rather than 6."
At Protection Shelters LLC, we believe that taking the "standards" and improving upon them is the only way to build.  We don't strive to provide "adequate" protection; we insist that there be no doubt about your safety.
Everyone hopes that they never NEED a tornado shelter, but having one of our tested and engineered residential or group storm shelters provides peace of mind. After a storm, life may be altered – but because of our shelter, it was never threatened.
Your family or employees' safety in the face of a storm is not only our business, but our passion.  We consider it an honor and a privilege to provide for the safety of you and yours.
Custom Deliverable Shelters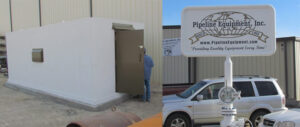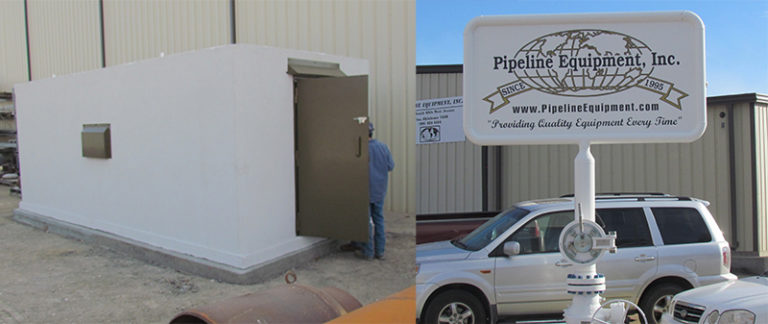 Above Ground Handicap accessible concrete shelters as small as 8X8 to as large as 10X24 can be custom-built, delivered to your location, and set in place. They require no additional anchoring, just flat level ground.
THE FOLLOWING SIZES AVAILABLE FOR RENTAL
8'x10′  with one handicap accessible door
10'X12′ with two handicap accessible doors
10'X24′ with two handicap accessible doors
Custom On-Site Shelters
These storm shelters can be a basic shelter or can provide an auxiliary multi-purpose space with drop ceilings, electricity, HVAC, bathrooms—custom created for your group shelter or residential storm shelter needs and size requirements. We can provide a shelter that will exceed your expectations.
---
Group and Community Storm Shelters