Established in 1997, Protection Shelters LLC has become one of the premier providers of tornado safety in Kansas and beyond. Providing safe reliable storm shelters is not only our business it's our passion. We consider it an honor to provide for the safety of those that trust us with this enormous responsibility.
Experience – Trusted for 20+ Years
Variety – Individual, Group, & Deliverable Options
Custom – Sizes & Features for Your Needs
Quality – All Shelters Meet FEMA Standards
Protection Shelters LLC has provided peace of mind to homeowners throughout the Midwest, as well as businesses, communities, and government agencies around the country including group shelters for the Sedgwick County Public Works department, and the Department of Interior. We have also designed and constructed numerous FEMA-funded shelters for housing authorities and school districts.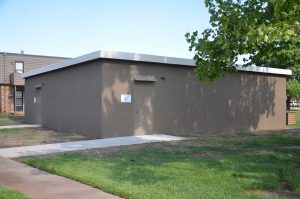 Protection Shelters LLC is a Producer Member of the National Storm Shelter Association. Our products continue to meet debris impact testing criteria performed at Wind Science Engineering at Texas Tech University – the same company that performs testing for FEMA.
We build shelter for 1 person as well as entire schools and businesses, and on each and every project we are dedicated to quality, integrity and providing assurance that if you seek protection in one of our shelters you know that it has been built to the highest standards in the tornado shelter industry.
We hope you never NEED a tornado shelter, but having a garage shelter, steel shelter, or other safe room from Protection Shelters LLC will provide peace of mind. After the storm, your life may be altered, but because of your shelter, it will not be threatened.
Please don't hesitate to contact us with ANY questions about tornado safety and what PROTECTION SHELTERS LLC can do for you.
---